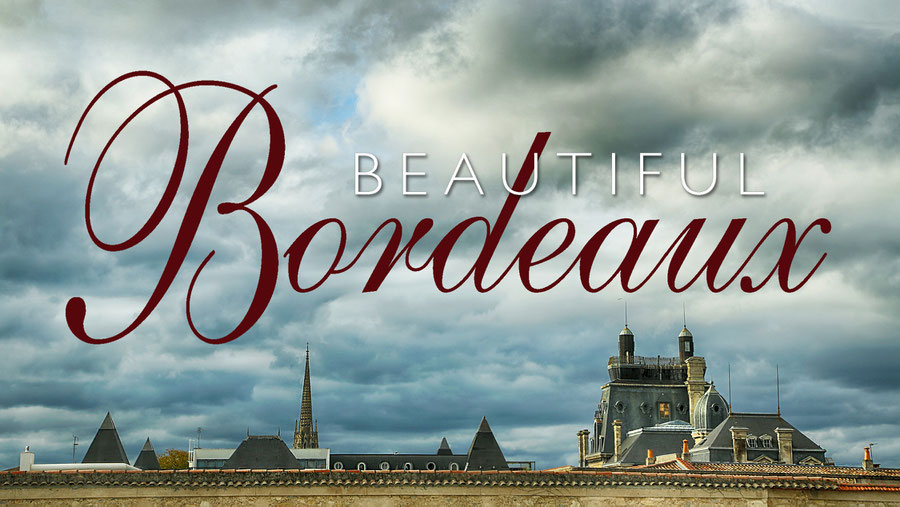 Fall 2019 - Beautiful Bordeaux is the common phrase on the promotional material. 
No kidding!
        This southwest corner of France (also understood in general conversation as an area) is the country's 6th largest metropolitan centre with a population of more than one million residents. Initially constructed by the Celtics as the city of Burdigala in 300-BC, Bordeaux is sacked, plundered and traded back and forth over the following 1000 years by the Romans, the Vandals, the Visgoths, the Franks, and others.
        In 1096 Cathedrale Saint-Andre de Bordeaux is consecrated and fifty years later the city falls under English rule as part of Eleanor of Aquitaine's dowry in her marriage to Henry II of England. In the early 1700's the city becomes prosperous to commerce and Napolean II uses Bordeaux as the model for the modernization of Paris.
        Bordeaux was the seat of the French government during several wars, and more recently has been chosen the Best European Destination (2015). The city saw the construction and opening of the University of Bordeaux in 1441, initially experienced a huge growth in the wine trade in 1152, has retained architectural history of numerous gates and structures from pre-Roman times and installed one of the planet's most efficient tramways (electric) in 2003. UNESCO too designated the entire city a World Heritage site.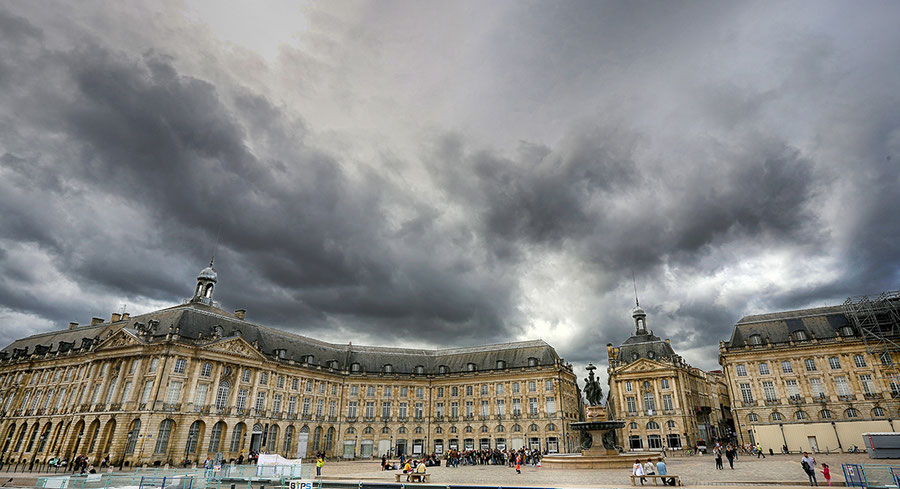 The Place de Bourse facing La Garonne River is very near exact center of this beautiful city. We failed to capture the entire structure even using a super-wide angle lens, the right side being identical to the left in the photo.
        We are fortunate to share a love of history and architecture, people and places. A few years ago an extensive trip through the vertical center of Spain, Malaga to San Sebastien, provided a near insatiable appetite for most things European. And a near life-long love of good food and good wine, an investigative nature, and great travelling instincts screamed "next destination, Bordeaux!". Somewhat exaggerated . . . 
        Truth is, we love wine and fresh baked breads, cheeses and home cooked meals, new people, open air markets especially in the fall, new places, and endless road trips shared between ourselves, a GPS the only companion, and the next night's destination to lay our heads. We travelled to France and experienced all of that for 24 consecutive days. 
        We arrived in Bordeaux early, having left Montreal around noon. And you know you may have made the correct decisions regarding travel when the airport of arrival gardens are shoulder to shoulder rows of grape laden vines interspersed with flowering roses.
        Each with a small suitcase in tow, a 1999 copy of Saveur magazine, and an air b&b city-center destination, we hailed a cab and were off. As fortune tends to provide good people, voila. It's 10:00 a.m., the bags are in the second floor walk-up (no mention of stairs in the promo) and we're out the door, following the breeze that carries those delightful aromas of heat and fresh baked breads. Wouldn't you know it! One of Bordeaux's longest operating Boulangeries is right across the street. I check twice to make sure I hadn't passed away on the flight across the Atlantic. But it's not Heaven! It's Bordeaux!!
        Café au lait all around is ordered, croissants, and two slices of quiche. One with leeks and one with bacon. A sip of the French coffee and one's eyelids SLAM open. A sample of the pastry wrapped around the quiche filling and we're in butter heaven for sure. These fixin's can alter blood sugar . . .
        The bakery, Au Pétrin Moissagais,  is owned and operated as a family affair, Isabelle and Serge Combarieu leading the way over the past 18 years. A remarkable brick oven in the back, built in 1765, continues to be wood fed and operating every day. It's the only oven in the place. The Combarieu's are happily and generously informative, helpful in information and direction and provide us with a number of suggestions as to what will be happening in the next few days in their city. And we soon learn everyone in Bordeaux it seems, is quick to provide help and direction to visitors.
        Following our breakfast we stroll in blocks, moving steadily out and further away from our temporary living accommodations. Every church, we discover, has a large, open square around it, the square encircled with eateries and shops, and filled with Saturday morning walkers and shoppers and hungry customers. The side streets are extremely narrow, one car one way at a time, while the main streets are boulevards with bike lanes on each side, traffic lanes going both directions and the tram lines down the middle. Pedestrians have the right of way, cars for the most part are small, walkers far outnumber all modes of transportation, bicyclists are second and electric scooters are considerable in number. Noticeably missing are overweight individuals, except of course those reflected in the windows we are walking by. We look the other way to be polite.
        There is a noticeable cleanliness in the streets. No cigarettes tossed along the curb, no paper blowing along the roadway. And we soon notice, particularly when ordering outdoor eats, napkins and paper products are not readily handed out. 
        The following day, at the baker's suggestion, we walk down our street a block or two and there is the Sunday open-air market. Farm produce, fresh fish and cheeses so delicious they will never make it to the apartment. And our gal spots the oyster vendors. Like most market operators in Europe, these folks not only present you with a plate of the Arcachon Basin's fresh shucked oysters, the game includes a glass of cooled, crisp, mid-dry white wine and a slice of buttered bread. Grandma is in oyster heaven. Those from the Basin's Atlantic waters are smaller with a cleaner, more sweet flavor than those we learned to love along Canada's Pacific Coast. Seldom do we disagree on food but Grandma says she favors these. I politely retort, "Don't be so disagreeable. You're on holiday!" And I laugh. Her look of annoyance announces where she stands on that humor. Must be early in the day . . .
        We sit and people watch, enjoying the remnants of our glasses along with a bite of superb goat cheese smeared across the last of the bread, then stroll through the market, along the waterfront, (the city is built on both banks of the Garonne River), circling back to the market for some fresh roasted chicken, lagoustine, potatoes and cheese for supper. And with our second day in the bag, the course is set. We are on an adventure . . .
        As we walk back to the apartment we pass a small wine bar, maybe six tables, with a smallish sign out front. Les Furie Douce the neatly designed artwork says (Sweet Furies the owner translates). And we sit and enjoy a glass of wine. The server tells us she is the owner, along with a partner friend, and they play on the edge of the movement. 
        "The only wines we stock are grown, harvested, produced, bottled and marketed by women!" she says, working the subject interestingly. She tells us she was a musician, travelled the globe as a pianist and cello player in the accompanying band of a headliner, and has since moved on. Then she presents us a menu.
        The wine bar serves dishes more like an assortment of abundant nibbles than meals, and although we aren't at all hungry at the moment, we tell her we'll be back.
        As we leave the bar we note a church in a square a block down the street. Having learned many years ago that if it's history that peaks your interest, visit the churches, we head that way. Les Vitraux de Saint-Louis des Chartrons is under renovation. The church has seen many fall seasons, displays a sparsley decorated interior as we soon learn many in the area do, and is built of the same stone materials as is the entire city. The architecture is a cause of wonderment, and as happens at most churches we visit, candles are purchased and lit for reasons of a personal nature. It's time to eat and enjoy a bottle of Bordeaux's best refreshment.
        Stubbornly fighting a winning battle to defeat travel fatigue first thing the next morning we walk the opposite direction.  Wouldn't you just know it, another Boulangerie is staring us in the face. They're on every corner - like a bread plague . . .
        And it's time for breakfast! Which for us is everytime we see a French bakery . . .
        Pain Artisnal Carefou serves a beautifully strong coffee and unquestionable the best Danish pastry we've ever sampled. So as visitors do when in Bordeaux, we sampled a second. And maybe I remember putting a third Danish into my pocket to avoid the harassment of name calling that might include something along the lines of lard-###.
        We walked the length of the waterfront on the east side of the city, all the way to the CAPC Musée d'art contemporian. The building housing the museum, LaCite du Vin, is constructed in the shape of a huge wine decanter, colored in golds and silvers, and is truly unique. On the return stroll we watched a hydraulic, swing bridge stop the downtown traffic while a small sail boat slowly moved from a quay out onto the river, then the bridge, equally as slowly, swung back into place. Not a single horn over the 20 minute wait.
        Stopping to enjoy a cold beer under the Finger Food canopy and out of the hot sun we soon realized the building next door was an arm of the university. Doors opened and the students poured out, captured all open tables and then stood in tight groups around the exterior of the patio, all ordering and receiving wine and beer. Many simply stood, enjoying a cigarette, and discussing the important topics in their world.
        We ended our walk back at Les Furies Douce, were formally introduced to Audrey Bocahut and Carole Mochet, and learned they have been open since June. Audrey was living previously in Paris but wished to raise her son away from the big city environment. The girls soon fill our table with a generous selection of charcuterie choices of meats, cheeses and a rustic bread. Audrey suggests wines and we are provided samples, choosing  a bottle of Aléofane Saint Joseph from a Rhone Valley Vineyard. It is remarkably smooth, full of an extended grape and dark berry flavor, and closes with the suggestion of a second sip..
        Carole adds a plate of paté de Campagne and more bread to the table, and returns with another plate of terrine de sardines å l'aile. While she constructs a mushroom and beef based sauce Carole says there is chocolate coming for a finish. 
Having been raised by parents who encouraged ". . . you eat what's put in front of you . . .", and they being words we've attempted to follow on all of our travels, when it comes to chocolate, who are we to argue?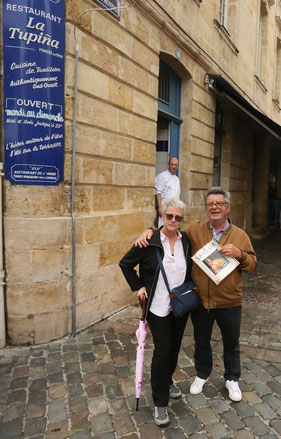 As we settled into the layout of Bordeaux we became more adventuresome, and decided to seek out La Tupina and Chef Jean-Pierre Xiradakis, who for many years has been leading a crusade to revive southwestern France's simple, traditional cooking. La Tupina is at the top of 'best restaurants' in Bordeaux. Widely recognized and even more widely recommended. 
        I had carried a copy a 1999 edition of Saveur magazine with me. The features included a story on La Tupina's chef and his restaurant and I intended to talk to Jean-Pierre. Simply because we believe there is no comparison to good home cooking we wanted to sample the authenticity of the story. 
        As we come around the corner of a cobbled street in Bordeaux's old quarter, there is Chef Xiradakis standing at La Tupina's front door, greeting friends while reciting instructions to an attending chef for this evening's menu.
        We introduce ourselves and I present the magazine which displays one of his preparations on the cover. The Chef is visibly moved. He takes the magazine, leafs through the 20-page article and says the writer messed up the recipe on his artichokes and the photo didn't do the plate justice. He scowls, like only the French can scowl. The article, published in 1999, maybe isn't as old as we think.  
        Jean-Pierre autographs the story, then requests we come to dinner. He introduces us to Chef Thomas Hidouin, and informs his assistant that we "are to be taken care of as guests." The following evening that's exactly what transpires.
        We arrive at La Tupina for dinner at the pre-arranged hour. We are formally greeted at the door, hugs and hand-shakes, and are whisked to a table at the window. Over the following four hours we are treated to a menu of astounding flavors with service as informative and efficient as one could dream of. There is champagne suggested to celebrate our arrival, followed by a glass of white wine and a Bordeaux beer to accompany starters. These include  a Pot of coddled eggs with foie gras, and Scallops with duck bacon. Mains are Veal kidneys with french fries cooked in duck fat (over the top delicious), Roast chicken and a dressing made with roasted bread chunks in chicken drippings tossed with thin slices of pork sausage meat and onion (wow), a plate of vegetables including tiny sweet radishes and grape tomatoes accompany a slice of paté de campagne and breads. The mains were paired with a 2012 Chateau La Garde, Grand Vin de Graves.
        We shared a Lemon sorbet and a Chocolate cake with creme Anglais as dessert. Chef Thomas came to our table, said  "thank you for meeting our boss . . .", then let us know he was choosing an aperitif 'from the team', for us.
        A moment later our waiter returned, a second Thomas, placed two glasses on our table and poured generous amounts of    Armanac (quality Cognac's loftier cousin at 43% alcohol by volume) that we're informed will " . . . warm your soul." And it does.
        A cab appears for our return to the apartment.
        Over the next few days we walked aimlessly around the city, sampled may flavors and drank a more wines. We visited La Basilique Saint-Seurin which is a major archeological site today offering extensive tours, including into the foundation tombs where many ancient and past priests and church dignitaries, a few Saints and Bishops,  silently sleep through your turn of watching and wondering.
        We visited the remains of a roman amphitheatre, Palais Gallien; the Tour de France Museum; the ancient gate Place de la Victoire; Basilique St-Michel; Porte Cailhau; Place de Bourse; the Mirror Pool; Porte de Bourgogne; Palais Rahan; Cathedrale St-Andre, places that many centuries past witness the weddings of royalty, and more. We stumbled on what appeared to be a small wine store and slipped through the door. A young wine vintner soon opened our eyes to the world of wines and wine tasting and the smile on Grandma's face lasted the balance of the day.
        We walked away with a bottle of 2009 St. Emilion Chateau Barrail-Destieu to go along with our cheeses, bread and fruit. And on Thursday, in the early morning, we left Bordeaux, in a rented car equipped with a GPS, and headed east on a road trip.
We'll tell you about that momentarily. In the meantime, enjoy the photos.